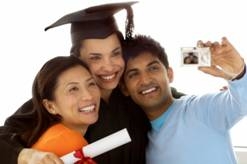 Supportive Services - Education
Education is one of the cornerstones of a successful life. In a recent government study it was determined that average annual earnings are approximately $18,900 for high school dropouts, $25,900 for high school graduates and $45,400 for college graduates. This means that an adult's average lifetime earnings are $1.2 million for a high-school graduate, but $2.1 million for those with a bachelor's degree. Rochester Housing Authority would like to see our residents achieve their educational goals.
RHA's Resident Services Department supports the pursuit of a high school diploma or GED or a college degree. Your Program Specialist can help direct you to services such as tuition assistance, stipends for textbooks, child care subsidies, and transportation subsidies to assist you in achieving your educational goals.
Other educational goals may also include: Adult Basic Education, Adult Literacy, or learning English as a Second Language.